We now need to summarise how an erection happens into 6 phases. We will use these phases to try and pin point how ED can interfere with our party plans. Here goes:
Phase 1: Flaccid.
Your Dick is flaccid.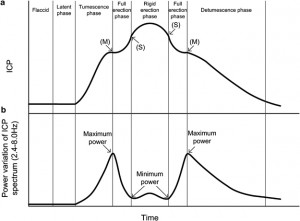 Arterial blood inflow and outflow are in balance and the cavernosal lacunar spaces are relatively empty.
Phase 2: Start to Erect.
Your brain has released dopamine which at Dick's level starts the Nitric Oxide/cGMP reaction. Blood flows in and the cavernosal lacunar spaces fill up but not fully to stiffen to erection.
Phase 3: Erection.
Your Dick erects. As blood flow continues to pool in the cavernosal lacunar spaces, the pressure inside your Dick increases, and his internal blood pressure is now higher than your normal body diastolic measurement (the minimum blood pressure reading). Blood only flows in during the systolic heart push (the maximum blood pressure reading).
Phase 4: Rigid Erection.
Your Dick is rigid. Your pelvic muscles can contract and apply more pressure on your Dick's corpora cavernosa. The blood pressure in your Dick is now higher than even the systolic level (the maximum heart push pressure level). This squeezes the out flowing venous vessels and they close. Your Dick is as erect as he can get and is now basically a rigid structure.
Phase 5: Post Orgasm Deflation.
Your Dick starts to deflate slowly. The PDE-5 breaks down the cGMP and his corpora cavernosa tissue contracts, the peripheral cavernosal lacunar space pressure decreases and the compression on the venous leakage vessels reduce, thereby allowing outflow.
Phase 6: Complete Deflation.
Your Dick deflates. The blood vessels revert to their normal state. There is no pressure on the venous leakage vessels to constrict and they just let any blood inflow to flow out, reverting your Dick to a flaccid state.
Let's get a map fix on where we are and what we are trying to achieve. You now know how an erection happens physically and we have summarised an erection into 6 Erection Phases. You don't have to recall this phase analysis as we will bring it all together later on. We will now analyse how a sex encounter evolves and then bring it all together so that we can see how ED can spoil our sex encounter party plans. And because knowledge is power, the more you understand how ED interferes, the better Steps 6-11 will make sense and work for you.
You can follow any responses to this entry through the RSS 2.0 Both comments and pings are currently closed.